Organic Fertiliser that is cost effective
Bevan McLeod is a Specialist in Liquid Fertilizers, Soil Microbes, Zeolite, Soil Minerals, Feed Supplements and Seed Distribution.
McLeod's Organic Soil Conditioner is specially formulated to maintain moisture and improve soil health.
It has a range of minerals and healing products for your soil including microbes, zeolite and aged organic matter.
McLeod's Organic Zeolite is robust and insoluble. It can be used for potting or broad–acre applications, odour control, feed lot operations, composting, filtration, as a feed supplement and binder, soil conditioning and to improve general soil health.
Results have been seen by applying zeolite to soil for improved aeration, friability, balancing PH and reducing alkalinity and clumping.
Zeolite helps maintain moisture so you don't need to water as much or rely on rainfall events as regularly as some other fertilisers and minerals.
One of the first things Bevan will recommend is a soil test to find out exactly what your soil is lacking. He is aligned with a soil scientist who has more than 30 years' experience in plant and soil nutrition.
Watch The Video of Clayton, a Farmer who uses McLeod's Organic Soil Conditioner
Watch The Video of Bevan McLeod Talking About McLeod's Organic Soil Conditioner
Animal Care
McLeod's has a full range of supplements for animal care from natural zeolite to nutritional feed.
Vita Ferm Mineralized Blocks:
Carefully blended to enhance digestive performance and supply essential vitamins and minerals.
Vita Ferm Weather Vain Feeder:
Inexpensive
Weatherproof
Turns with the wind to protect minerals and blocks.
"Your 24/7 hired hand"
Vita Ferm Amaferm Mineral Lick:
An economical lick supplement.
100% natural ingredients.
High level of minerals helps overcome deficiencies in feed.
Improved growth rate in young stock.
Better fertility in breeding stock.
Improved drop rate.
McLeod's Organic Soil Conditioner
A totally balanced organic fertilizer.
PH reading of 6.95
Improves soil fertility by enhancing biological activity.
An earthy, fully composted manure plus natural zeolite.
CLICK HERE to Watch Video's of Farming Using The Organic Soil Conditioner.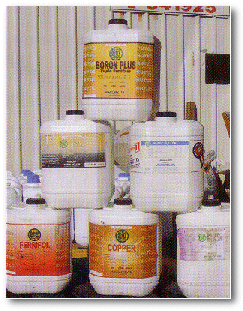 Agriculture is dependent on microbes to maintain a biological balance of the soil, thus they are essential for the growth of crops.
More than 1,000,000,000 microbes can be found in only 1 gram of soil. Of this number, there may be more than 10,000 different species (swibc.org)
McLeod's has a complete range of products to enhance soil health, including MegaMix Plus, Boron, Liquid Nutrients, Magnesium , Ferrifol, Copper and all the products you need to improve soil health and productivity.
McLeod's Agriculture Can Help You:
Increase moisture infiltration and retention in your soil.
Promote exceptional growth in plants.
Improve the shelf life and quality of products- fruit, vegetables, flowers.
Increase soil mass and growth.
Why use McLeod's ?
Use less water
Healthy soil produces more and leaves your soil ready for another bumper season.
McLeod's products make soil more friable, encourage beneficials, promote root health and recovery, and improve yield.
Increase your bottom line by decreasing the cost of inputs and increasing production.
And it's cost effective !
CLICK HERE to Contact McLeod's Now.
Bevan is also a distributer of Bushman's Tanks (10 year replacement guarantee)